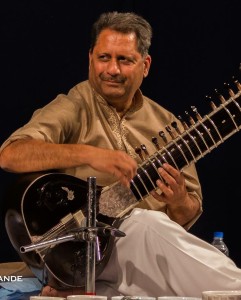 Visiting Teacher
Dr. Harvinder Kumar Sharma is an exceptionally gifted Sitarist. He showed a keen interest in Sitar at a tender age of five and gave his maiden public performance when he was just nine. He is a disciple of Ustad Vilayat Hussain Khan of Imdadkhani Gharana and initially learned from his father Sh. Meghraj Sharma.
He obtained a master degree in Hindustani classical music (Sitar) from Punjab University, Chandigarh in the year 1978. In addition he also obtained master's degree in Hindustani classical music (Vocal) from Punjab University, Chandigarh in 1980. He has been a research scholar for two years at Research Institute of Fine Arts, Tashkent (Uzbekistan). He did his Ph.D. in Music from Kurukshetra University.
In recognition of his meritorious achievements and outstanding commitment to music, he has been bestowed with awards and honours by prestigious organisations and the State Government of Haryana such as the Karam Yogi award which is the highest civilian award in the field of music (conferred upon him by the Haryana Institute of Fine arts) or the honour of the "Prashashti Patra" for his incessant contribution to the field of music on the occasion of 65th Republic day (2012).
Harvinder Sharma will be visiting New Zealand and providing advanced sitar lessons for all students.