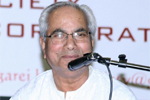 Professor Shuk Dev Madhur, retired lecturer of music, is renowned and a master in field, especially in the area of music training. He is a panelist with the All India Radio (National broadcaster) and has also trained several hundred teachers at the prestigious Indian National Council of Education Research and Training.
Professor Shuk dev Madhur is known to New Zealanders as a violinist proficient in the Hindustani style of music. His passion for the art has made him a quality teacher encouraging a growing number of youngsters to learn violin under his able guidance. Professor Madhur is a recipient of several Awards, among the foremost of which is the National Award that he received from former Indian President Shankar Dayal Sharma in 1993 for his contributions to music. He is a wealth of knowledge in Indian classical music.
Professor Madhur is largely responsible for bringing Hindustani Style of music to the NZ, giving it the global audience it enjoys today. He spends his time between India and New Zealand. When here, he teaches at the Sargam School of Indian Music.
Violin Concerts of Professor  Madhur have been featured in innumerable Music festivals & conferences all over the New Zealand & Austrailia.
Professor. Madhur has association with many outstanding musicians from all over the world including top musician like Flutist Pt. Ronu Majumdar, Tabla Maestro Ustad Fazal Qureshi & Pt Pawan K Verma, Vocalist  Pt Shyam Das Mishra,  Dr. Suresh Ramachandran on Mridhangham, Sarod Player Chinmaya Dunstar, Violinist  Dr. Ashok Malur to name a few.
Some Of his Unique performances also include music concerts at Asia 2000 Foundation of New Zealand, Prana Music, dance & arts Festival, waitakere Indian Association, Pakistan Association of New Zealand, Bharatiya Samaj's Fund raiser in New Zealand, Auckland Council Community events.
Professor Shuk Dev Madhur, true cultural ambassador of India, continues to preserve and spread the rich cultural heritage of Indian classical music, in all its glory.